ALL IN ONE: THE ULTRA-COMPACT CONTROL SYSTEM FOR AUTOMATION
HIGHLIGHTS OF THE CONTROL SYSTEM
With the new ctrlX AUTOMATION platform and the modular ctrlX CORE control system, Bosch Rexroth meets the growing requirements of various market players: from dedicated PLC applications in the general machine market or motion applications for simple handling tasks to typical platform applications which allow companies on the lookout for a high-performance, future-ready hardware platform to build up their own expertise in specific markets.
Bosch Rexroth offers much more than simply high-performance control systems or control hardware: within the sector, ctrlX CORE is the most complete, flexible and open control platform with numerous features on all levels – from the design and performance to software and connectivity.
Future-proof
Multicore CPU performance
Can be expanded in a modular fashion with performance and interface modules
Flexible and open
App-based on Linux Ubuntu Core
Ready for integration into the EtherCAT ecosystem
Perfect fit
Flexible, reliable scalability with the ctrlX WORKS software module
Can be used in drive-based applications, as an embedded control system or in the IPC
ONE CONTROL, THREE PLATFORMS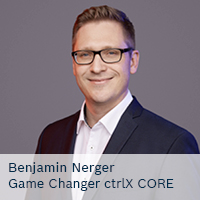 The smartphone of automation
With ctrlX AUTOMATION we have asked ourselves the question: What would automation look like if it were reinvented by a digital company?
The architecture is what counts
With its open and flexible architecture, the compact ctrlX CORE control system meets today's and tomorrow's requirements in the Factory of the Future. In addition to EtherCAT, the control hardware supports many other common automation protocols. Peripherals can also be connected easily via EtherCAT Master as an automation bus. The ctrlX Device Portal allows remote access to the control systems and makes it easy to administer and update them. In connected environments, the Ethernet interface controls the data-intensive exchange of information with higher-level IT systems, HMI devices and cloud-based applications. The control system supports more than 30 IT and PLC IoT standards, for example OPC UA as server and client as well as the widely used MQTT protocol.
Maximum openness on all levels
For field communication, ctrlX CORE relies on the EtherCAT ecosystem as standard. This opens up the entire world of EtherCAT peripheral devices, which can easily be integrated into the user's own control topology. The key benefits include short cycle times thanks to the connection via EtherCAT Master.
Programming, providing and using apps
ctrlX DEVICE PORTAL

- SIMPLE CONTROL AND ADMINISTRATION
Technical data
ctrlX

CORE
| Processor | ctrlX CORE |
| --- | --- |
| CPU | 64 Bit Quad-Core ARM CPU |
| Memory storage | ctrlX CORE |
| --- | --- |
| Fixed storage | 4 GB eMMC |
| RAM | 2 GB |
| Remanent memory | 1 MBit |
| Hardware interfaces | ctrlX CORE |
| --- | --- |
| Ethernet (EtherCAT master) | 1 x GBit Ethernet (RJ45) |
| Ethernet (Engineering port) | 1 x GBit Ethernet (RJ45) |
| Ethernet (Engineering port, TSN endpoint) | 1 x GBit Ethernet (RJ45) |
| USB | 1 x USB-C (2.0) |
| SD card | 1 x Micro-SD |
| Operation | ctrlX CORE |
| --- | --- |
| Operating system | Linux Ubuntu Core |
| Communication | ctrlX CORE |
| --- | --- |
| Fieldbus communication | EtherCAT master (RJ45) |
| Engineering/HMI | via GBit Ethernet (RJ45) |
| Engineering, TSN endpoint | GBit Ethernet (RJ45) |
| Remote access and diagonstics (WiFi) | via USB-C |
| Electrical data | ctrlX CORE |
| --- | --- |
| Supply voltage | 24 VDC (19.2 - 30.0 VDC) |
| Norms and Standards | ctrlX CORE |
| --- | --- |
| Standards | CE, UL, CSA |
| Certification | Industrial area class A |
| Environmental conditions | ctrlX CORE |
| --- | --- |
| Permissible temperature (operation) | -25 °C to +55 °C (fanless up to 2000 m) |
| Permissible temperature (storage) | -40 °C to +70 °C |
| Permissible humidity (operation) | 10 % to 95 % (EN 61131-2) |
| Degree of protection | IP20 |
| Protection category | III |
| Mechanical tests | ctrlX CORE |
| --- | --- |
| Vibration resistance | 1 g |
| Shock resistance | 15 g |
| Dimensions | ctrlX CORE |
| --- | --- |
| A | 45 mm |
| B | 105 mm |
| C1 | 87 mm |
| C2 | 10.5 mm |