NEW STANDARDS FOR SAFE AUTOMATION
HIGHLIGHTS OF THE
ctrlX

SAFETY SYSTEM
The user receives a solution tailored to their individual safety requirements with maximum flexibility and safety. The use of open standards and secure connectivity on all levels as well as the fast and versatile selection of safety functions complies with the principle of the open, integrated ctrlX AUTOMATION platform. ctrlX SAFETY enhances this established platform as a trend-setting safety system.
ctrlX SAFETY grows with the customer's requirements. The solution is based on two components that can be used independently or as an overall system – As a bundle, it is the fastest and most compact safety solution available on the market.
Thanks to the faster reaction times, machines requiring minimal space can be designed with ctrlX SAFETY. ctrlX SAFETY is part of the ctrlX WORKS suite. The intuitive graphical programming allows efficient engineering. Ready-made function modules are provided for advanced applications. ctrlX SAFETY has a wide range of diagnostic functions and allows secure, free programming.
Scalable: From a drive-integrated solution to a complete safety control system
Efficient engineering thanks to graphical programming
Compact design
Fastest reaction times
Flexible and versatile
ctrlX

SAFETY – a fast and comprehensive safety solution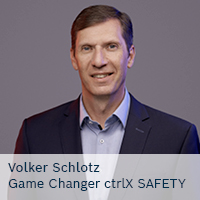 QUICK REACTION TIMES IMPROVE BOTH SAFETY AND PRODUCTIVITY
Why is it so important that ctrlX SAFETY functions are activated more quickly than those in any other automation solution?
MAXIMUM PERFORMANCE IN TERMS OF ARCHITECTURE AND SAFETY FUNCTIONS
ctrlX

SAFETY THE CERTIFIED SAFETY SOLUTION
Thanks to the short reaction times of ctrlX SAFETY, it can be integrated into machines in the smallest of spaces while the fully certified safety technology allows efficient machine acceptance procedures. Once a safety solution has been planned, it can be integrated into different machine concepts without complex adaptation. As it supports the most common secure fieldbus protocols, ctrlX SAFETY can be integrated into almost any ecosystem, and modular safety concepts with secure cross communication can be realized. The system can be integrated into an existing automation topology.
Technical data
ctrlX

SAFETY
| Safety PLC cycle time | ctrlX SAFETY |
| --- | --- |
| Main program | 4 ms |
| Fast channel | 1 ms |
| Interfaces | ctrlX SAFETY |
| --- | --- |
| ctrlX SAFETY Link | Master interface |
| EtherCAT | Slave |
| Safety over EtherCAT (FSoE) | Master/Slave |
| PROFINET | Slave |
| PROFIsafe (i.p.) | Slave |
| SD card | 1 x Micro-SD |
| Electrical data | ctrlX SAFETY |
| --- | --- |
| Power supply - logic | 24 VDC (19.2 - 30.0 VDC), < 2 A |
| Power supply - peripherals | 24 VDC (19.2 - 30.0 VDC), up to 8 A |
| Environmental conditions | ctrlX SAFETY |
| --- | --- |
| Permissible temperature (operation) | 0 °C to +50 °C |
| Permissible temperature (storage) | -40 °C to +70 °C |
| Permissible humidity | 5 % to 95 % |
| Degree of protection | IP20 |
| Pollution degree | 2 (EN 61131-2) |
| Dimensions | ctrlX SAFETY - SAFEX-C.12 | ctrlX SAFETY - SAFEX-C.15 |
| --- | --- | --- |
| A | 61 mm | 101 mm |
| B | 105 mm | 105 mm |
| C1 | 85 mm | 85 mm |
| C2 | 9 mm | 9 mm |
| C3 | 160 mm | 160 mm |