More drive in automation: compact and modular servo drives and servo motors
Today, what counts for machine builders and end-users in automation is being one decisive step ahead of the competition. This means that cost-optimized solutions must be brought to market and deployed quickly. Three main levers make it possible to achieve this goal:
Minimizing the automation structure or the installation space
Scaling without architectural breaks
Expanding the scope for action through the openness of the system
ctrlX

DRIVE – servo drives
ctrlX DRIVE offers tailor-made solutions: The scalable drive portfolio includes converters, single- and double-axis inverters, DC/DC converters, and rectifier and regenerative power supplies. Thus, suitable solutions for different applications are possible with minimal installation space.
Minimum space requirement
50% drive
100% control
300 mm in the control cabinet
30% more torque density
Scalable and consistent
Power range: Drive 6 A to 375 A
From an input level axis with command value control to the motion system
Flexible power supply concept incl. converter as power supply
Maximum torque 4 Nm to 692 Nm, functional safety up to SIL3
Open and flexible
Multi-Ethernet, Multi-Encoder
Decentralized intelligence – open for own user IP
Perfect adaptation to any safety topology
Virtual engineering with simulation models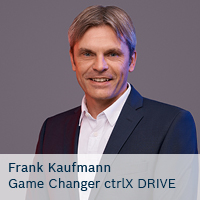 Powerful drives for the future
All machine types across all industries have one thing in common: manufacturers are integrating more and more electric drives into machines. But do developers and designers really need to plan ever larger control cabinets for this?
Technical data – servo drives
ctrlX

DRIVE – servo motors
ctrlX

DRIVE – MS2N servo motors:
Powerful
Maximum torque from 3.7 to 692 Nm
Continuous torque from 0.8 to 345 Nm
Flexibly configurable
Finely scaled series with seven sizes in up to six lengths
Single cable connection up to MS2N07
Different types of cooling, encoders up to SIL3 PLd, holding brake and much more
Extensive portfolio – suitlable for every application
The range of products is not only versatile, but also extensive. More than 50 motor types cover a maximum torque of up to 692 Nm and maximum speeds of up to 9000 rpm. With dynamic and inertial motor variants, finely graduated torque and speed ranges, four encoder options with safety technology up to SIL3 PLe and optional single-cable connection, the motors flexibly meet the diverse requirements of modern automation.
Intelligent in the system
The servo motors are designed for state-of-the-art requirements – for example in Industry 4.0 environments. They provide a dynamic temperature model that ensures safe use up to the operating limit. The digital twin of the motor is used in the design tools as well as in the ctrlX DRIVE controller. This means that any application can be designed and implemented simply, quickly and reliably.
Thanks to a new torque model, each motor can be used as a data source for intelligent machines or Industry 4.0 applications. The individual measurements of each motor are stored in the motor data memory and the saturation and temperature data are processed by the Rexroth drive control units in real time. This leads to a considerable increase in torque accuracy and reduces the tolerance range during on-going operation to a fraction of the previously usual values.
ctrlX

DRIVE – MS2E servo motors:
Powerful
Maximum torque from 4 to 266 Nm
Continuous torque from 0.7 to 64 Nm
Flexibly configurable
Finely scaled series with six sizes in up to three lengths
Single cable connection up to MS2E07
Safety for explosion-proof areas
ATEX conformity equipment group II and equipment category 3D (dust) / 3G (gas)